Hello, Excellers. I think this next #Excel tip will come as a relief, especially if you have inherited a workbook. Yes, quick statistics about your Excel workbook are now available.!. You may need to know how many Pivot Tables, Macros, formulas and tables you have in a workbook. This new feature was made available in April 2020. It is now available in the following versions.
Watch The YouTube Video.
Excel for Microsoft 365
Mac Excel 2016
Excel for iPad, iPhone, Android tablets
Equation Editor for Mac 2011
Excel for Android phones Whiteboard
It is easy to access the workbook statistics information following the steps below:-
Click Review Tab | Proofing Group | Workbook Statistics.

This information is available at both the current worksheet level with the following details available at the current WORKSHEET level.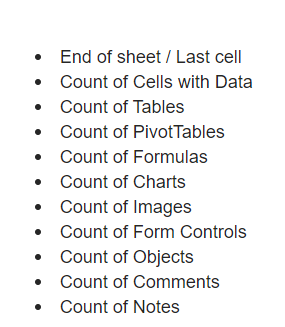 At the WORKBOOK level the following statistics are available.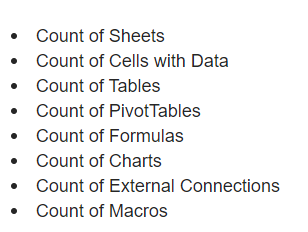 In my example workbook, I have 2 sheets, 3 cells with data, 1 Pivot table and many more items. Pretty handy statistics.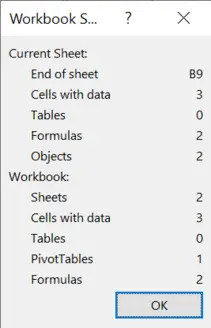 I know if I need to find how may Pivot Tables are in an inherited workbook now, I do not need to write any code to find out. Just hit this new feature.?
Do You Prefer Excel Shortcuts?.
If you like to use shortcuts then you can easily access the same worksheet and workbook statistics by the following keys:
Ctrl+Shift+G
So, if you want more tips then sign up for my Monthly Newsletter. I share 3 Tips on the first Wednesday of the month. You will receive my free Ebook, 30 Excel Tip.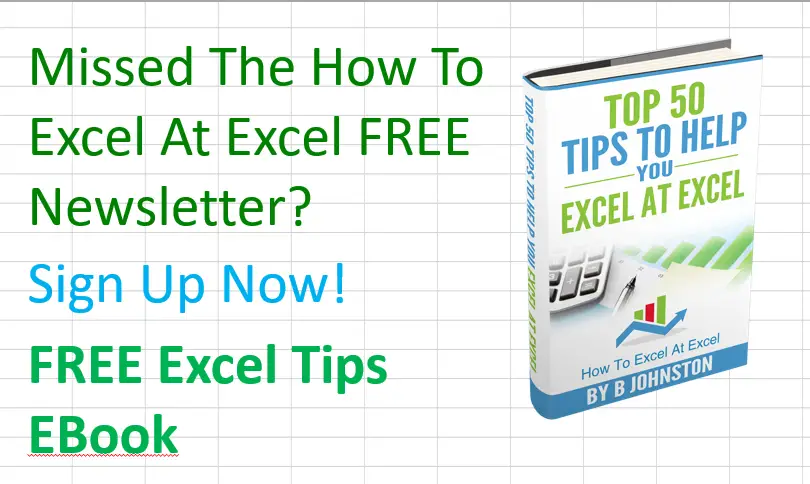 Need Help?

STUCK WITH MS EXCEL FILE ISSUES & WANT TO SAVE YOUR DATASHEETS?

DON'T WORRY, THE FILE REPAIR TOOL WILL FIX THE ISSUES & RECOVER ALL EXCEL DATA AFTER SHOWING YOU THE PREVIEW.
Repair corrupt XLS and XLSX files of all versions.
Retrieve tables, images, charts, formulas, cell comments, filter & sort easily.
It even preserves spreadsheet properties along with its formatting.
Really fast and highly intuitive to work with no matter how big is your file.